DRAMATIC CLUB
Monef High School Dramatic Club is a viable club organized to enhance student's extra-curricular activities. The club, as a body, aims at developing fields. Among many other activities, the club usually engage in dramatic performances, debates, spelling competitions, word games and general quiz. With this, membership is not restricted to only Arts students. The club offers students the platform to showcase talents in leadership and public speaking.
Ensign and Motto:
The club adopts the general motto of the school "to be…" the slogan of the club is "… invigorating our culture. The slogan goes thus to intensify the aim of the club at inculcation students with the sense of our cultural heritage. To further project this, the club designs an emblem with the central figure of an African wooden mask as a totem that signifies African cultural heritage.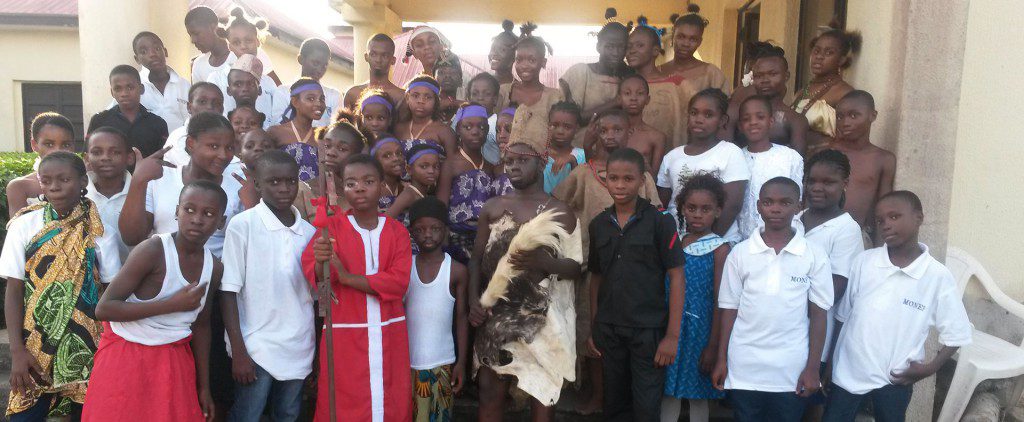 Administration
The activities of the club is regulated by the school authority. Teachers in Arts department are mandated to coordinate and ensure proper functioning of all activities of the club. Some students are also selected into specific offices to take care of daily and weekly businesses of the club. The students report for weekly rehearsals especially when important performances and competitions are at state.  
 Prospects and Progress
          With the aim of developing young talents in dramatic art, both as a hobby and as a career, the club has succeeded in teaching students to overcome the enigma of eyesore which usually impede bringing out the best out of students. It has encouraged individual talents and skills in students.
The club has participated in competitions in the local and state levels and has recorded successes. During internal functions, the club has been thrilling audiences with wonderful and exciting performances in drama, songs and cultural displays. Monef High School Dramatic Club is a place to mould a student to completion.